Season wrap: MPavilion celebrates biggest season of free events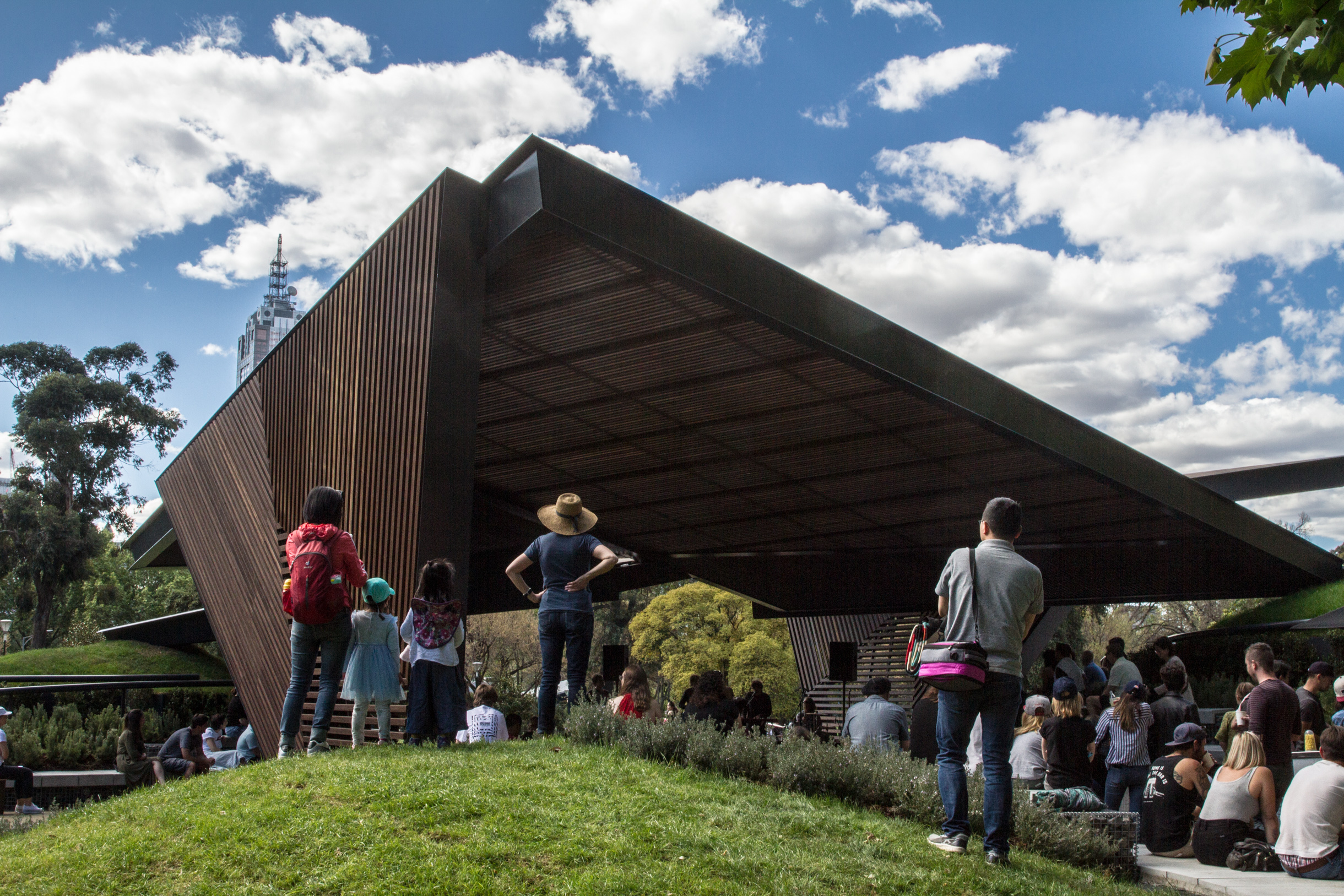 With our season of free events about to close on Sunday 17 February, we're celebrating the community's overwhelming response to MPavilion 2018, designed by Carme Pinós of Estudio Carme Pinós. The 2018/19 MPavilion program season has been our biggest yet, with 520 events encompassing talks and public lectures, open workshops, multidisciplinary performances, installations and kid-friendly experiences. Events were spread across a number of themes inspired by Carme Pinós, including: building resilient communities, inclusivity, women in leadership, landscape and nature, visual languages—fashion and architecture, and design and science. More than 133,000 people visited Carme's MPavilion over 139 days of the season.
MPavilion is an architecture event, a civic space and a cultural laboratory, commissioned each year by the Naomi Milgrom Foundation. Because our four-month program is for the whole community and is created in collaboration with people from across a range of disciplines and walks of life, this season we engaged more than 500 collaborators, including cultural institutions, architects, artists, musicians, dancers, scientists, designers—and you! Yes, in 2018 we again held our public callout for proposals, resulting in a number of fantastic events, including our MTalks event HERitage: How women have shaped Melbourne's cultural landscape, and our MMeets event Creating space for women: Designing for safety and power. The program also contributed to numerous festivals and cultural programs, including Melbourne Festival, Melbourne Music Week, Multicultural Arts Victoria's Mapping Melbourne and more.
International guests have included architects Carme Pinós, Carlo Ratti and Sir Peter Cook; former Tate director Sir Nicholas Serota; Google USA director of user experience Elizabeth Churchill; 10th Berlin Biennale curator Gabi Ngcobo; V&A curators Marie Foulston (vigeogames) and Rory Hyde (contemporary architecture and urbanism); The Future Laboratory's Chris Sanderson; Singapore's SA The Collective; and Hyphen-Labs co-founders Ece Tankal and Carmen Aguilar Wedge, who also participated in our inaugural STEM program for teenage girls.
This season we extended both our BLAKitecture architecture forum series and our MRelay series of tag-team talks, which focused on building inclusive communities. We also welcomed our inaugural Writer in Residence Maddee Clark, a Yugambeh writer, editor and curator who investigated the intersections between architecture and the written word. The residency is presented in partnership with the Copyright Agency's Cultural Fund and supported by State Library Victoria. MPavilion's 2018 Artist in Residence was award-winning Melbourne artist Esther Stewart, who created an interactive kid-friendly installation inspired by Carme Pinós's geometric pavilion design. And that's just a sample of what has been a blockbuster season at MPavilion. Thank you for joining us in the gardens!
At the close of our program, MPavilion 2018 will be gifted by the Naomi Milgrom Foundation to the people of Victoria and relocated to a permanent home to be used by the community in perpetuity. We'll let you know where it's heading very soon! Don't forget, you can now visit five MPavilions in and around Melbourne: MPavilion 2017 by OMA / Rem Koolhaas & David Gianotten is located at Monash University's Monash campus; MPavilion 2016, designed by Bijoy Jain of Studio Mumbai, can be found at Melbourne Zoo; Amanda Levete of AL_A's MPavilion 2015 is in Docklands Park, and Sean Godsell's MPavilion 2014 now sits within the grounds of the Hellenic Museum.
MPavilion 2018 by Carme Pinós of Estudio Carme Pinós will close on Sunday 17 February. MPavilion is an initiative of the Naomi Milgrom Foundation in partnership with City of Melbourne, State Government of Victoria through Creative Victoria, and ANZ. Be sure to sign up to our newsletter to get news about MPavilion straight to your inbox.