Hot town! Your top ten free events for summer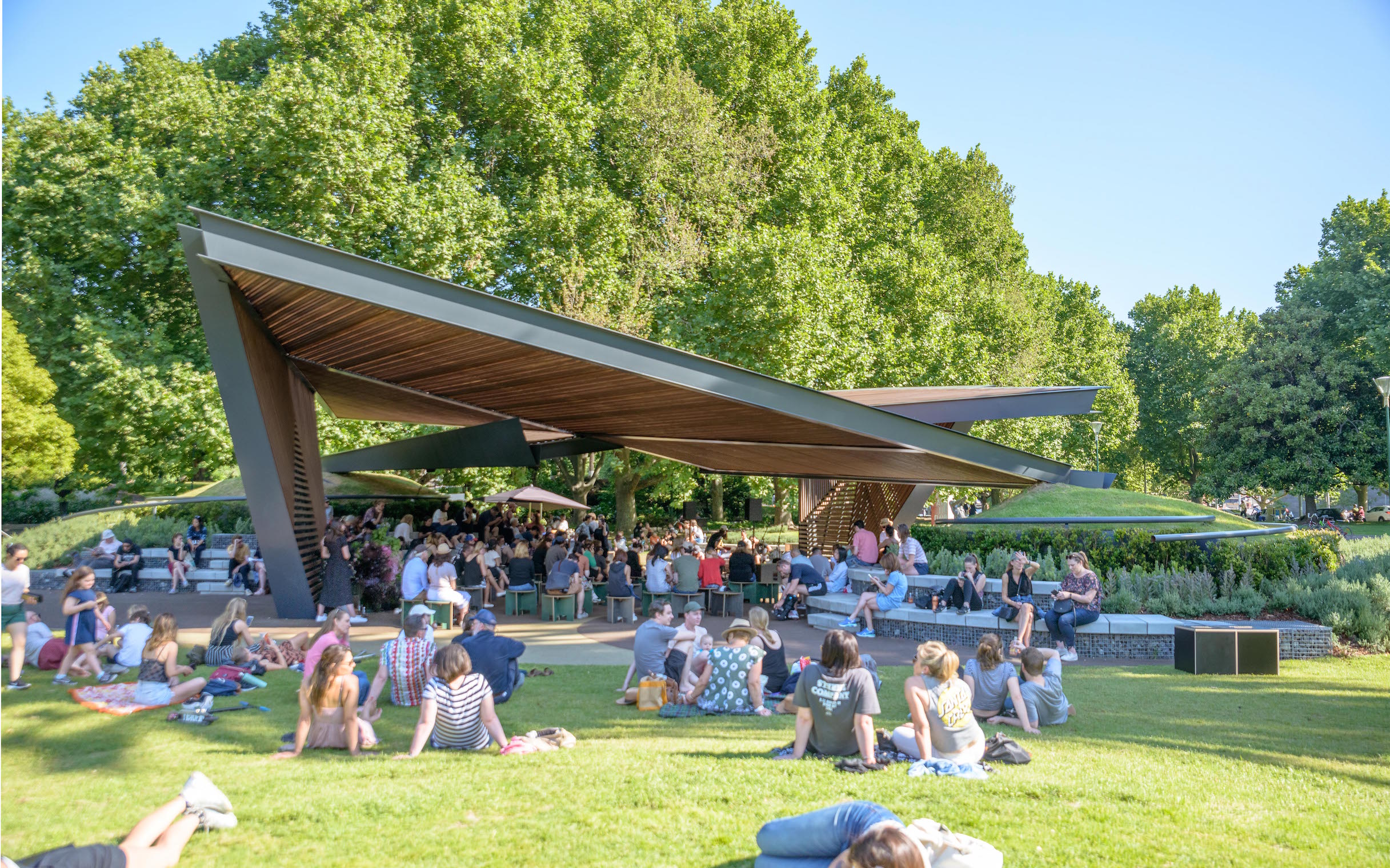 Alice Skye & Friends at MPavilion 2018. Photo by Robert Miniter.
It's summer in the city—prime time to get out and explore what Melbourne has to offer. With hundreds of free events for all ages and interests, we have you covered. Whether you're looking for a family-friendly adventure, a dance or yoga workshop, or an engaging panel discussion about society and culture, MPavilion is your destination for summer. We've dipped into our program to bring you the top ten free summer events at MPavilion. Pop them in your calendar and we'll see you in the Queen Victoria Gardens!
---
Saturday 22 December, 12–6pm
Celebrate the festive season with a day of Spanish flair for the whole family, featuring flamenco music and dance performances, plus an open flamenco dance workshop at 3pm with the Flamenco Fiesta Group. The workshop is open to people of all ages and abilities, so get your dancing shoes on! Our Kiosk will be serving sangria as well as boutique drinks thanks to Four Pillars Gin, Shadowfax wines and Two Birds Brewing.
MMEETS—Friday morning flo with Hip Hop Yoga Brunswick
Friday 11, 18 and 25 January, Friday 1 February, 7.30–8.30am
Not your average yoga class! Join the crew from Hip Hop Yoga Brunswick for a morning yoga flow designed to energise and uplift with hip-hop and R&B beats—the perfect way to bring on happy Friday vibes and sweat out the holiday toxins. Suitable for all levels and abilities.
MKIDS—Mi Gente (My People) Sound System Party
Sunday 20 January, 3–6pm
A multi-generational sound system party for kids and their adults, this vibrant outdoor dance-off draws its inspiration from city block parties in Latin America and the Caribbean. With young local DJs providing the soundtrack, this is perfect summer entertainment for kids who like to bust a move. Pack a picnic and enjoy coffee and refreshments from our Kiosk.
MRELAY—The future is gender-neutral design
Saturday 2 February, 11am–1.30pm
Given the under-representation of women in architecture and urban planning, how has gender influenced our built landscapes? Bringing together leading thinkers and doers, this tag-team talk explores gender-neutral approaches to design and planning. Drop in or stay for the whole discussion. This event is supported by VicHealth and 3RRR.
MMUSIC—Bedroom Suck Records presents 'Music in Exile: Mindy Meng Wang x Sui Zhen'
Friday 21 December, 6–10pm
Australia's much-loved independent record label presents cross-cultural collaborations from artists who call Melbourne home. In this instalment, classically trained Chinese Australian composer Mindy Meng Wang joins dream-pop singer-songwriter Sui Zhen for a performance not to be missed.
MPROJECTS—Esther Stewart installation: 'Fold, Play'
Thursday 27 December – Sunday 6 January
Don't sleep on this larger-than-life interactive installation by acclaimed Melbourne artist Esther Stewart, famous for her colourful geometric creations. Bring the family over the festive season, pack a picnic and enjoy what is certain to be one of the Melbourne summer's most vibrant city sights.
MMEETS—In these critical times
Friday 1 February, 10am–4pm
Are you craving space and time for your artistic practice? Or are you craving instead the people and provocations to set your practice on the right path? Join Esther Anatolitis, executive director of the National Association for the Visual Arts, for this inspiring and interactive workshop that will give you the time and space for an entire day's immersion in your own practice. Go on, fuel your next adventures.
MMEETS—'Unreconciliatory landscapes' with MPavilion Writer in Residence Maddee Clark
Wednesday 23 January, 12.30–2pm
MPavilion's inaugural Writer in Residence Maddee Clark brings together a panel of First Nations writers to consider the ways colonialism and whiteness shape our understandings of and interventions into public space, and how we can rethink meanings of place and property. Hear from the city's emerging and established Indigenous voices and join this vital conversation.
MMUSIC—Jewel Box Performances presents Jessica Hitchcock
Sunday 27 January, 4–5pm
Establishing herself through collaborations with Deborah Cheetham's Short Black Opera as well as Jessie Lloyd's Mission Songs Project, Jessica Hitchcock will perform from her very first EP, due to be released in May 2019.
MKIDS—Stories at MPavilion with State Library Victoria
Thursday 22 (5–8 years) and Thursday 31 January (0–5 years)
Storytellers from the State Library Victoria host these fun and relaxed holiday reading sessions for little ones. Share the delight of stories, songs, rhymes and creative activities brought to life. MPavilion is pram-friendly, accessed via a short stroll across grass from the paths off St Kilda Rd. Our Kiosk will also be open, serving coffee and treats.
View the full MPavilion season of events, talks, workshops, performances, installations and kid-friendly experiences on our program page. MPavilion 2018 is open in the Queen Victoria Gardens, Southbank Arts Precinct, until February 2019.