Q&A: Songwriter Alice Skye is stepping out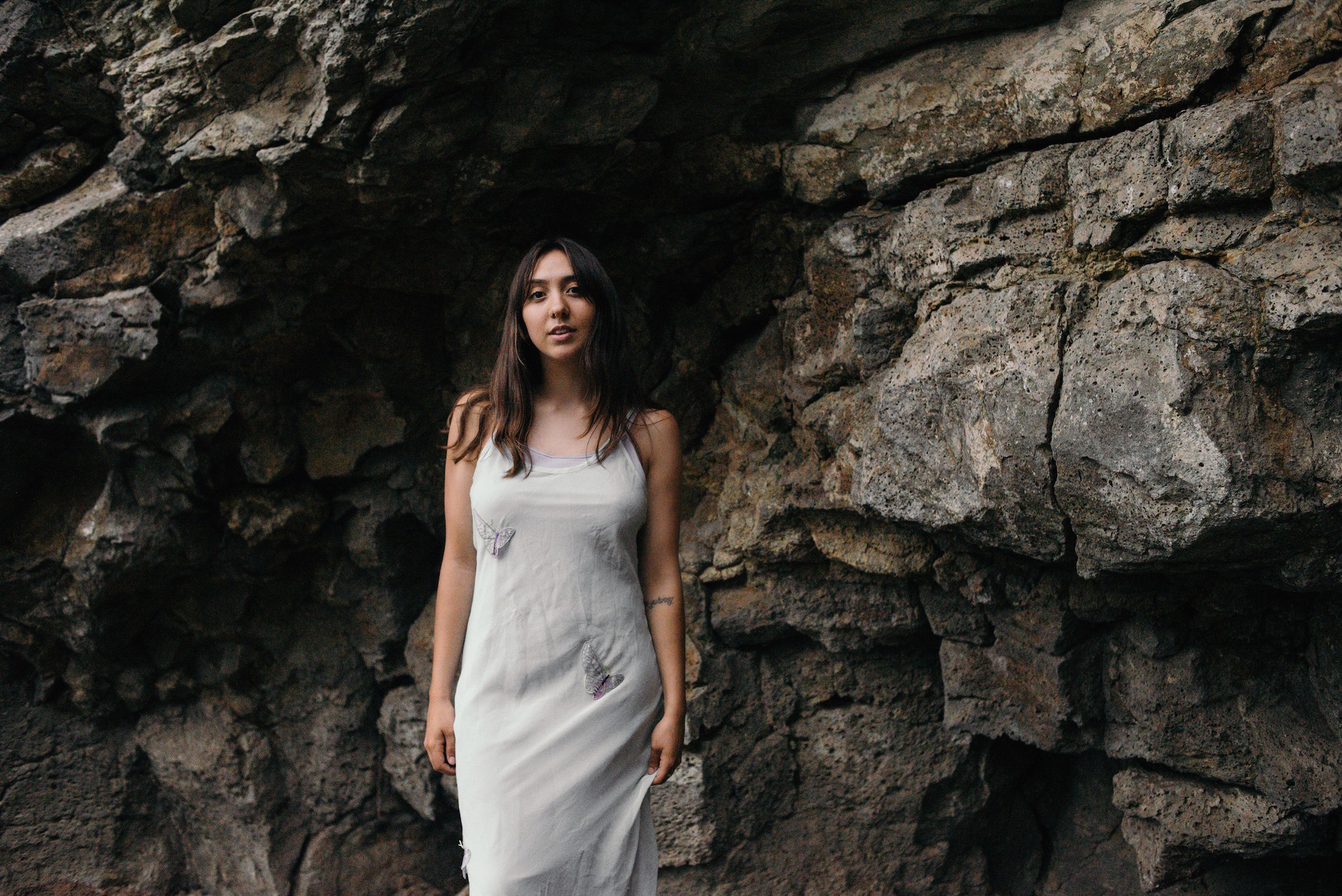 Alice Skye. Photo by Michelle Grace Hunder.
Alice Skye's career to date has been brief but sparkling. The young singer-songwriter, a Wergaia and Wemba Wemba woman, moved from the Grampians to Melbourne and quickly built an audience with her thoughtful prose and incredible voice. This year, Alice released a critically acclaimed debut album, Friends With Feelings, and was honoured as the inaugural recipient of the First Peoples Emerging Artist Award on International Women's Day.
Ahead of our MMUSIC event, Alice Skye and friends, on Sunday 18 November, 4–6pm, during which Alice will perform from her album with the accompaniment of musical pals, we caught up with the rising songwriter to talk tour highlights, owning your feelings and stepping out of your comfort zone.
---
MPavilion: It's been a huge 2018 for you so far—releasing your debut album, winning the IWD Emerging First Peoples Award, winning the Unearthed NIMAs competition, touring all over the country. What's been the highlight?
Alice: It's hard to pick just one highlight from what's been my biggest year so far. But my tour with Emily Wurramara is something I'll never forget about. Travelling around with a friend and a sister, we just became so much closer and with each show we were growing and it was just so special to be able to do that together.
I'm usually pretty oblivious when I'm on stage to what's going on around me. But I would be watching the crowd during Emily's sets singing her songs and looking up to her—it was just really special.
MPavilion: You recorded the album in Alice Springs. What was the process like?
Alice: It was a pretty dreamy process. Getting to spend the hottest parts of the day in a very well air-conditioned studio and going out for the warm nights and constantly talking about music all day every day. I loved working with Matt Byrnes and Rohan Carmody from CAAMA, so many great chats about music and life were had during.
We spent two lots of two weeks working on it. It was my first time letting other people into my songs and it was scary at first but very rewarding. Looking back on it now feels like a completely different version of myself. I'm so glad it was captured
MPavilion: The title track of the album, 'Friends With Feelings', has been everywhere. It's a very honest song. How did it come about?
Alice: There's a lot of stuff behind this song but it was partly due to some post show comments. A few people had said to me after shows, "Your songs are a bit sad," or like, "Why don't you write some upbeat songs for a change?" And it used to make me feel awful. And I was talking to someone about it and we talked about how we're taught to reject feelings that aren't associated with being 'good' or 'happy', instead of just owning them, too.
So it's really just about owning those sad, anxious, depressing, unsettling feelings and making them your friends.
MPavilion: Your collaboration with Ziggy Ramo and Trials for NAIDOC Week—the song 'Uncomfortable', which has been getting a spin on Triple J—is a musical departure for you. How was that experience and what's the response been?
Alice: This was another highlight for me! I was so nervous at first because I'm not great at meeting people for the first time, and I also had never collaborated with anyone before. But Ziggy and I just clicked. I kinda feel like we go way back now, but I only met him last month—he's such a great person and artist. We talked about things that were important to us and it just connected us instantly.
It's a totally different vibe from my usual thing, but that was kind of the point. I don't feel tied to a particular genre and we wanted to create something fun while making space to talk about things that matter to us as young First Nations people.
Join us at MPavilion 2018 for Alice Skye and friends on Sunday 18 November, 4–6pm.