Q&A: Artist Esther Stewart brings colour and shape to MPavilion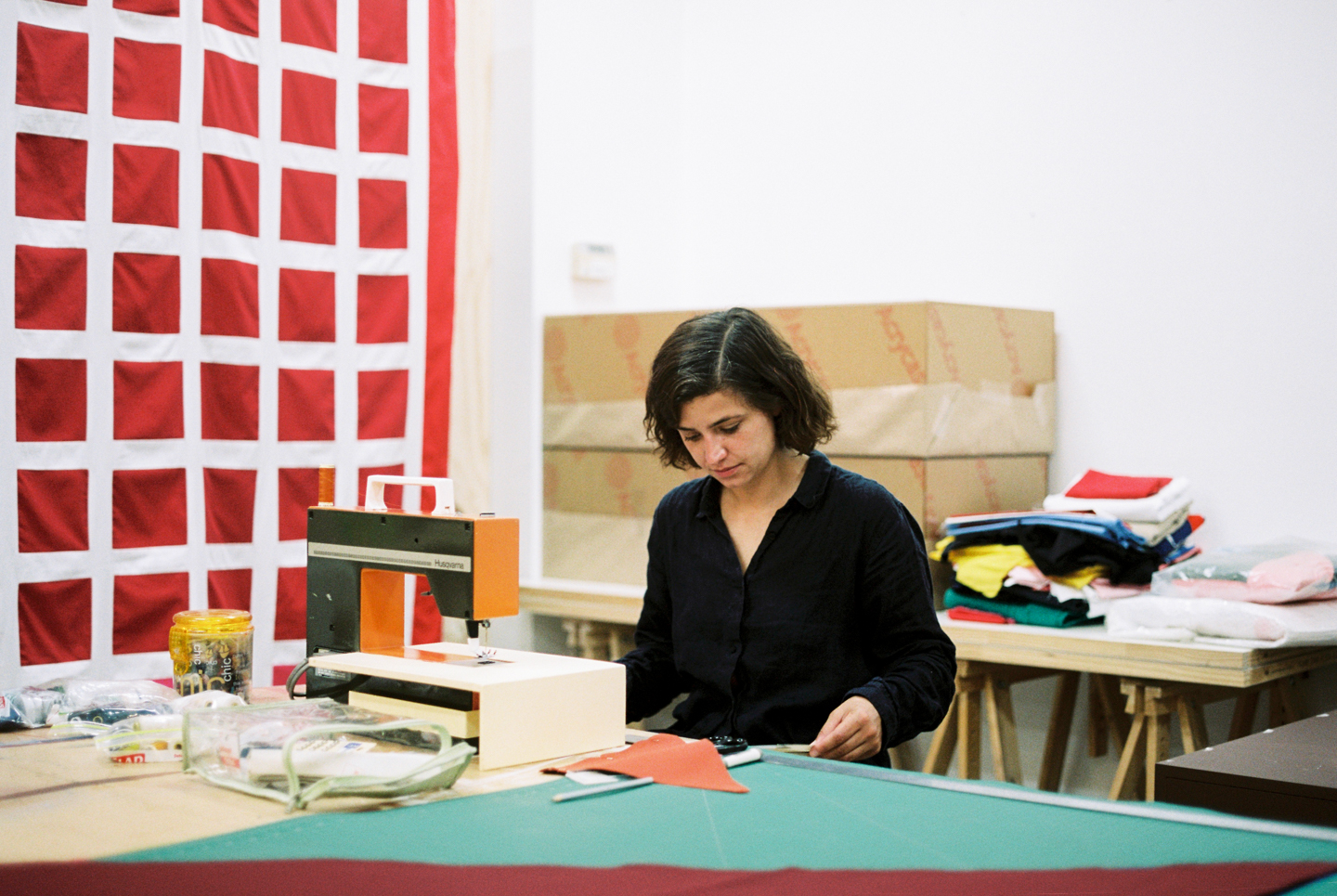 Esther Stewart in her studio. Photo by Alan Weedon.
Melbourne artist Esther Stewart has become one of our country's most exciting international art stars in recent years. Her colourful, geometric paintings and sculptures have been praised far and wide, even leading to a collaboration with Italian fashion house Valentino in 2015. Working at the crossroads of art, architecture and design, Esther draws from Islamic mosaic and the Bauhaus movement—the results are nothing less than extraordinary. You might have noticed the uniforms worn by our Kiosk and onsite staff this year—Esther designed them, and we absolutely love them. That's why we asked Esther to go big and create an interactive art installation at MPavilion 2018.
You can experience Esther's installation, Fold, Play, at MPavilion from Thursday 27 December to Sunday 6 January—yes, we're open every day through the festive season except public holidays. Be sure to bring the kids, too, because the installation, which responds to the MPavilion 2018 design by Carme Pinós of Estudio Carme Pinós, is fun for the whole family. We caught up with Esther to get a sneak peek at what she has in store.
---
MPavilion: You've become known around the world for working at the intersection of art, design and architecture. What led to your cross-disciplinary practice?  
Esther: I am drawn to a more cross-disciplinary approach of making because I like working with a wide range of different people and being challenged. I still approach each project with my own specific skills that come from my fine art training. I am always trying to expand how I think and by collaborating with people with different knowledge backgrounds I can do this.
MPavilion: Can you tell us about the installation you're creating for MPavilion?
Esther: I am making a series of sails that will become extensions of Carme's MPavilion. Expanding the current structure, participants will be able to create their own temporary architectural spaces. Drawing from the aesthetic of the MPavilion uniforms I designed, the sails will clip, fold and be able to be adapted by the user easily.
MPavilion: Has the installation been inspired by this year's MPavilion design by Carme Pinós? You seem to have a shared interest in manipulating space through geometric design.
Esther: I see my installation responding to Carme's architecture in two ways: As with Carme's structure, my piece is a series of interacting/intersecting geometries that cluster together creating a whole while maintaining their individual autonomy. I am also responding to the frame and infill of Carme's structure using the frame to extend off and create more fill. The large fabric sails will function as an extension of Carme's architecture.
MPavilion: How would you like people to interact with the installation? Is there a desired effect on visitors to the gardens?
Esther: The sails will be interactive, playful and magnet onto the steel components of the architecture giving participants an opportunity to create their own responses and additions to Carme's MPavilion.
Experience Esther Stewart's interactive installation, Fold, Play, at MPavilion 2018 from Thursday 27 December to Sunday 6 January.