MRelay Beyond diversity: Creating global cities
Sat 27 Oct 2018, 11.00am–1.30pm
Free!
2018-10-27 11:00:00
2018-10-27 13:30:00
Australia/Melbourne
Beyond diversity: Creating global cities
MPavilion
MPAVILION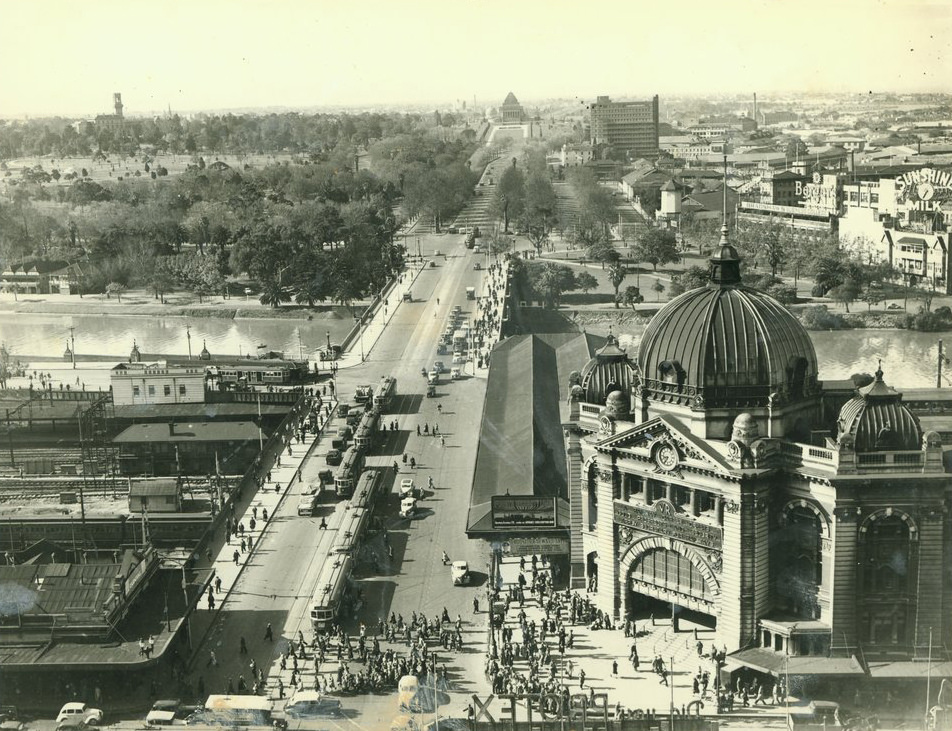 Flinders Street Station. Photo courtesy of State Library Victoria.
This event is now complete. If you want to revisit the talk, visit our Library, or subscribe to the MPavilion podcast via iTunes, Stitcher, Spotify, or wherever else you get your podcasts. 
Diversity has become a catchcry, a battle cry and an umbrella term for opportunity and access—but is it holding us back? Does the framing of diversity in conversations about our cities and institutions continue to keep minorities and the underprivileged at the margins? How can we move beyond a focus on otherness, and to where do we move? As political and economic forces create rapidly changing populations, engaging design to respond to these changes is not only essential but also urgent. From the ways we house and educate to how we socialise and celebrate heritage, there's much to consider in building the global city.
Interrogate the distinctions and possibilities of the global city with a line-up of esteemed guests in a lively tag-team conversation as part of our annual MRelay series. Hosted by social change campaigner Nevena Spirovska, speakers include Farah Farouque, chair of Social Studio; Filipino-Australian writer and emerging curator Andy Butler; MPavilion 2018 Writer in Residence Maddee Clark; visual artists and co-director of A Centre for Everything, Gabrielle de Vietri; openly gay Imam, Nur Warsame; Immigration Museum general manager Rohini Kappadath; Moroccan Soup Kitchen owner and Speed Date a Muslim organiser Hana Assafiri; artist Stanislava Pinchuk (aka Miso);Leah Jing of Liminal magazine and photojournalist and Asylum Seeker Resource Centre volunteer Norman Katende. 
This event is supported by VicHealth.
The MPavilion Writer in Residence is presented in partnership with the Copyright Agency's Cultural Fund and supported by State Library Victoria.
---
MORE MRELAY TALKS
Ageing, ableism and architecture