Meet MPavilion Writer in Residence Maddee Clark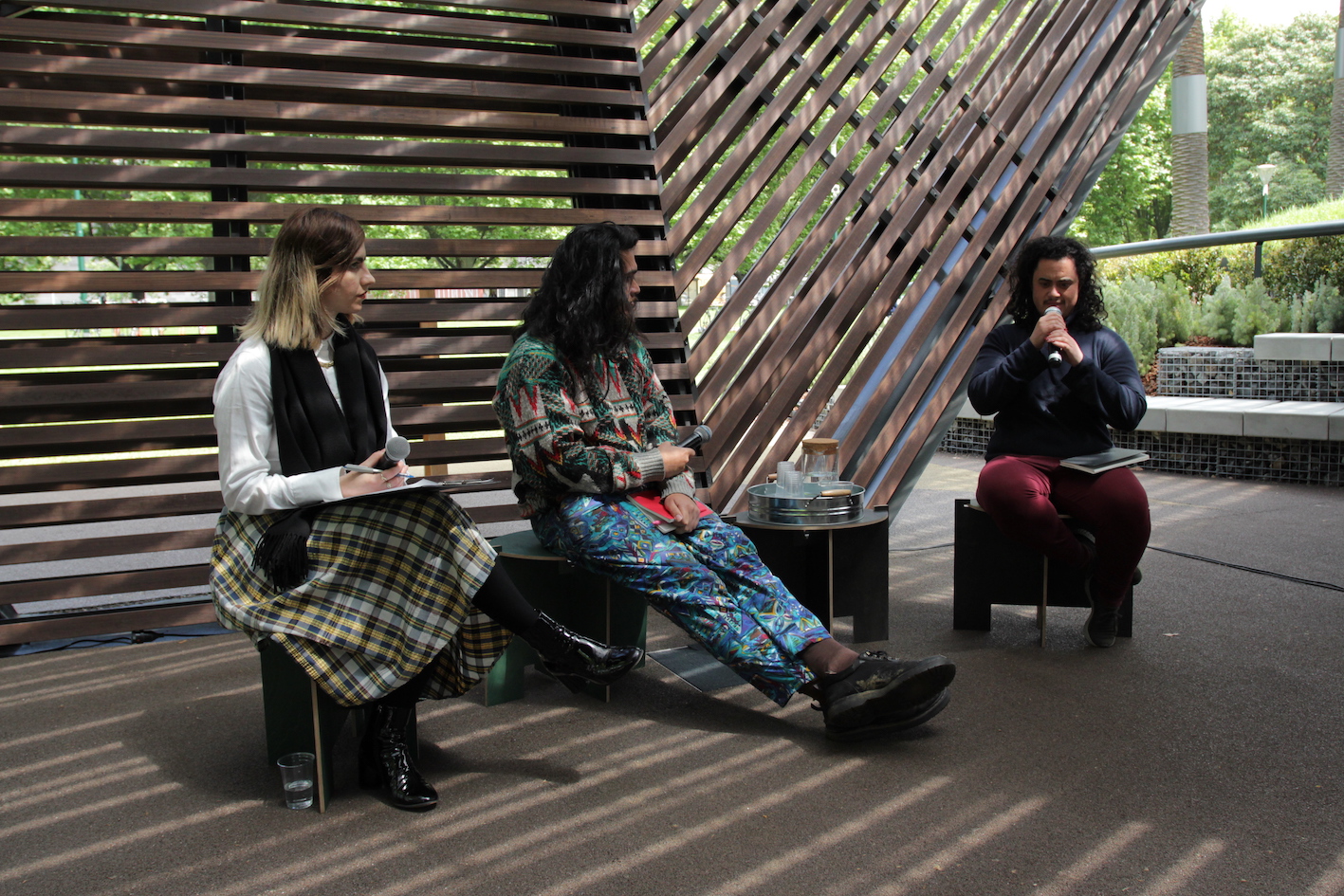 Nevena Spirovska, Andy Butler and Maddee Clark speaking at 'Beyond diversity: Building global cities' at MPavilion 2018. Photo by Vinisha Mulani.
We're passionate about facilitating new discussions about design as part of our free annual program, and this season we went one further, initiating our inaugural writing residency program. In collaboration with the Copyright Agency Cultural Fund and State Library Victoria, we awarded the position of MPavilion 2018 Writer in Residence to Maddee Clark, an exciting and emerging Yugambeh writer, editor, and curator. Maddee was one of un Magazine's 2018 co-editors, has had work published by Overland and Artlink, and is a Ph.D candidate at the University of Melbourne, writing on Indigenous Futurism.
With access to the State Library Victoria's archives and a dedicated space in which to work, Maddee has also been integrally involved in the MPavilion 2018/19 program, speaking at and attending events throughout the season. With deft ability, Maddee has produced long-form critical writings on the conversations happening at MPavilion throughout the season, with a particular focus on discussions about diversity and design, and Indigenous representation.
Read a selection of Maddee's writing produced during the MPavilion season on their blog.
"It was challenging at first to respond to some of the programming as there were a lot of new ideas to take in," Maddee said when we checked in and asked how they found an entryway to thinking critically about the vast MPavilion program. "In particular, design, urban planning and architecture have their own languages and it can be overwhelming to listen to if you're not part of that world. I think there are questions [being raised] here of accessibility, 'equity', inclusivity, and imagination," Maddee said, "and the idea of the public, which [are questions] I have connected to as someone interested in design and place-making as a colonial and inherently white possessive project—all of these are practices of imagining the future in often utopian terms."
The residency, Maddee said, has already made an impact on their thinking about the role of criticism in discussions about design and built environments. "There's often a false binary asserted between critics and practitioners. I think the program has encouraged me to think about the potential—and the urgent need—for critics, activists, and industry people to dialogue in an open, ongoing and collaborative way. It has prompted me to think about the project of making my own critique and critical writing 'useful'—something I have been thinking about in academic and teaching work."
In our final weeks of programming, Maddee is also taking the lead, chairing a panel on Indigenous representation in built forms in our MTALKS event Unreconciliatory landscapes, on Wednesday 23 January, 12.30–2pm, and facilitating a workshop for First Nations writers, Blak writing skillshare #1: Critical non-fiction, on Friday 8 February, 11am–1pm, in partnership with the Koorie Heritage Trust. The workshop, Maddee says, "is open to all First Nations participants and will be an open sharing space for everyone to participate. We will bring together some of our First Nations critics, emerging and established in critical and literary fields, to talk about issues which affect us as creatives in the writing industry."
The MPavilion Writer in Residence is presented in partnership with the Copyright Agency's Cultural Fund and supported by State Library Victoria.