Deep Soulful Sweats
Deep Soulful Sweats is a unique participatory event, founded on the winter solstice 2014 by Rebecca Jensen and Sarah Aiken. The project brings people together in a physical and energetic exchange through dance, ritual and spontaneous choreography, working across art, community, socially engaged practice and experimental collaboration.
Deep Soulful Sweats has presented at Tempo Dance Festival, Auckland (2018), MEL&NYC (Séance for Post-Modern Dance, 2018), Santarcangelo Festival, Italy (Imbosco, 2018), Brisbane Festival (Galaxy Stomp, 2016), Art Play Melbourne Fringe (Fountain of Youth, 2017), City of Melbourne's Sunset Series (curated by Amrita Hepi, 2017), PICA/Perth Fringe (Fantasy Light Yoga, 2017), Next Wave Festival/Speakeasy (Peaks of Phantasm, 2014), Festival of Live Art (Pulse Rejuvenation Module, 2014), Dark MOFO (Deep Sleep, 2015 and Rebirth, 2014).
In 2018, DSS is supported by City of Melbourne to host regular events across Melbourne in various venues. Each event follows a framework but is uniquely tailored to the context, time of year and relevant astrological events. Together with a range of the country's finest DJs as well as a rotating cast of Elemental Leaders and special guest performers, Deep Soulful Sweats have grown a loyal following in Melbourne and around the country.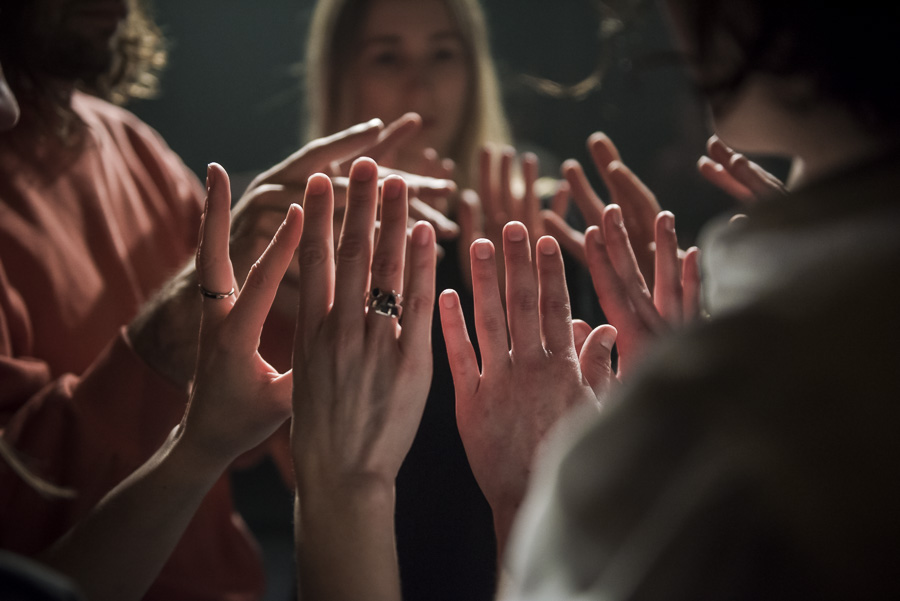 Photo by Gregory Lorenzutti.