It's here! First look at MPavilion 2018 by Carme Pinós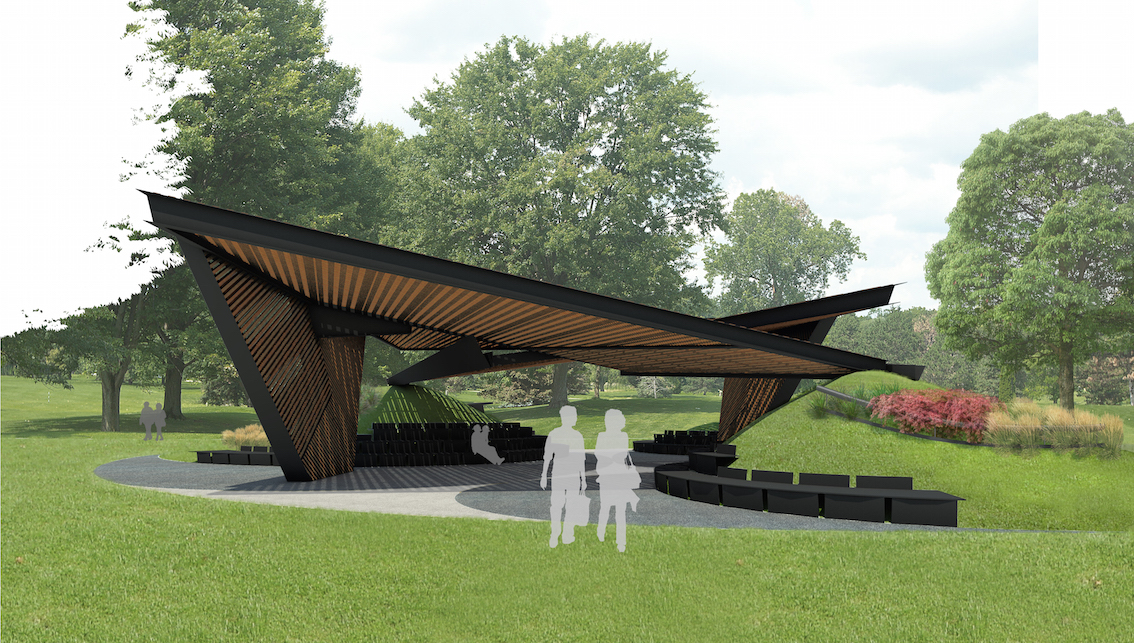 Image courtesy of Estudio Carme Pinós
We couldn't be more thrilled to introduce you to MPavilion 2018, designed by Barcelona-based architect Carme Pinós of Estudio Carme Pinós. A sharp and poetic vision for MPavilion, Carme's design is inspired by origami and invites a discourse between people, design, nature and the city. Celebrating Carme's design philosophy, which advocates building community, inclusivity and universal connection, MPavilion 2018—the fifth in an ongoing series commissioned by the Naomi Milgrom Foundation—will be a sensorial summer experience built in the Queen Victoria Gardens.
Carme's sculptural MPavilion incorporates floating planes resting at angles on elevated points within the park, connecting the structure to the city. The pavilion's transparent latticed roof allows sunlight while protecting visitors from the weather—patterns created by the sun's movement will reflect human movements and encounters. Staggered tiered seating permits a range of dynamic collaborations in keeping with MPavilion's purpose as Melbourne's cultural laboratory.
Naomi Milgrom AO, founder of the Naomi Milgrom Foundation, said: "Carme Pinós's philosophy of community closely aligns with MPavilion's own mission to facilitate meaningful dialogue about the role of design and architecture, and what it means to foster socially inclusive cities in the context of design and the built environment. I'm excited to see Carme's MPavilion come to life, and to also see the new collaborations and discussions that unfold through her vision."
Commenting on her MPavilion design, Carme Pinós said: "MPavilion 2018 is a place for people to experience with all their senses—to establish a relationship with nature, but also a space for social activities and connections. Whenever I can, I design places where movements and routes intersect and exchange, spaces where people identify as part of a community, but also feel they belong to universality."
Watch Carme speak about the inspiration behind MPavilion 2018:
Learn more about Carme Pinós and her work, read Carme's architect statement and see more renders of MPavilion 2018 on our architect page.
MPavilion 2018 will open free to the public on 9 October 2018 in the Queen Victoria Gardens, Southbank Arts Precinct, Melbourne and will be the venue for a free four-month season of events. After the program, the MPavilion will be gifted to the city and relocated to a permanent home. We'll be announcing the program soon, so stay tuned—and join us on Facebook, Instagram and Twitter for all the latest news as well as updates as we build MPavilion 2018.