Read up: Living Cities Forum 2019 speakers in the media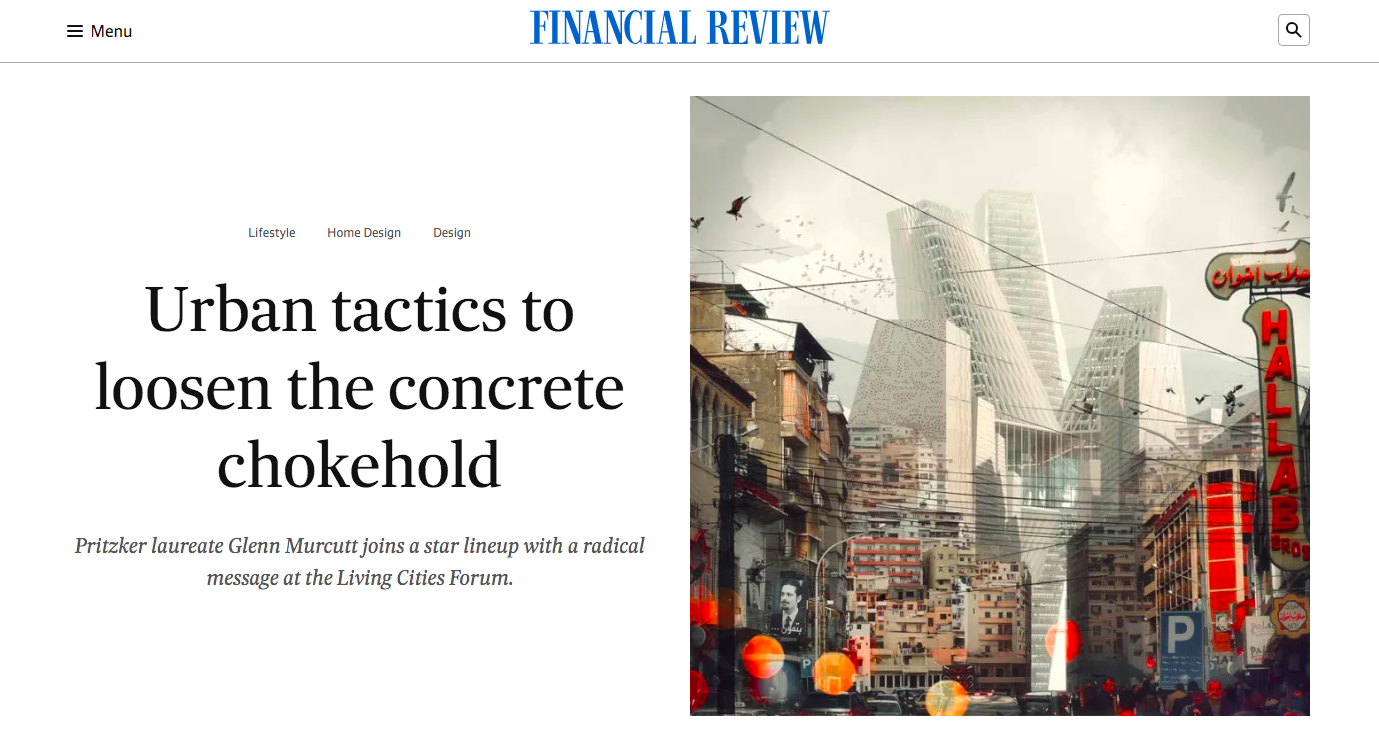 The international speakers of the Living Cities Forum 2019 have been grabbing headlines ahead of the events in Melbourne and Sydney later in May. National media has spotlighted a number of the architects and urban design thinkers who will gather at the forums to interrogate the theme Future Needs—including our MPavilion 2019 architect Glenn Murcutt AO. The 2019 cohort is comprised of visionaries from around the globe who are leading the conversation about how we can address the challenges of the coming decades, from climate change and population density to social inequality. (Visit the Living Cities Forum website for booking and program details.)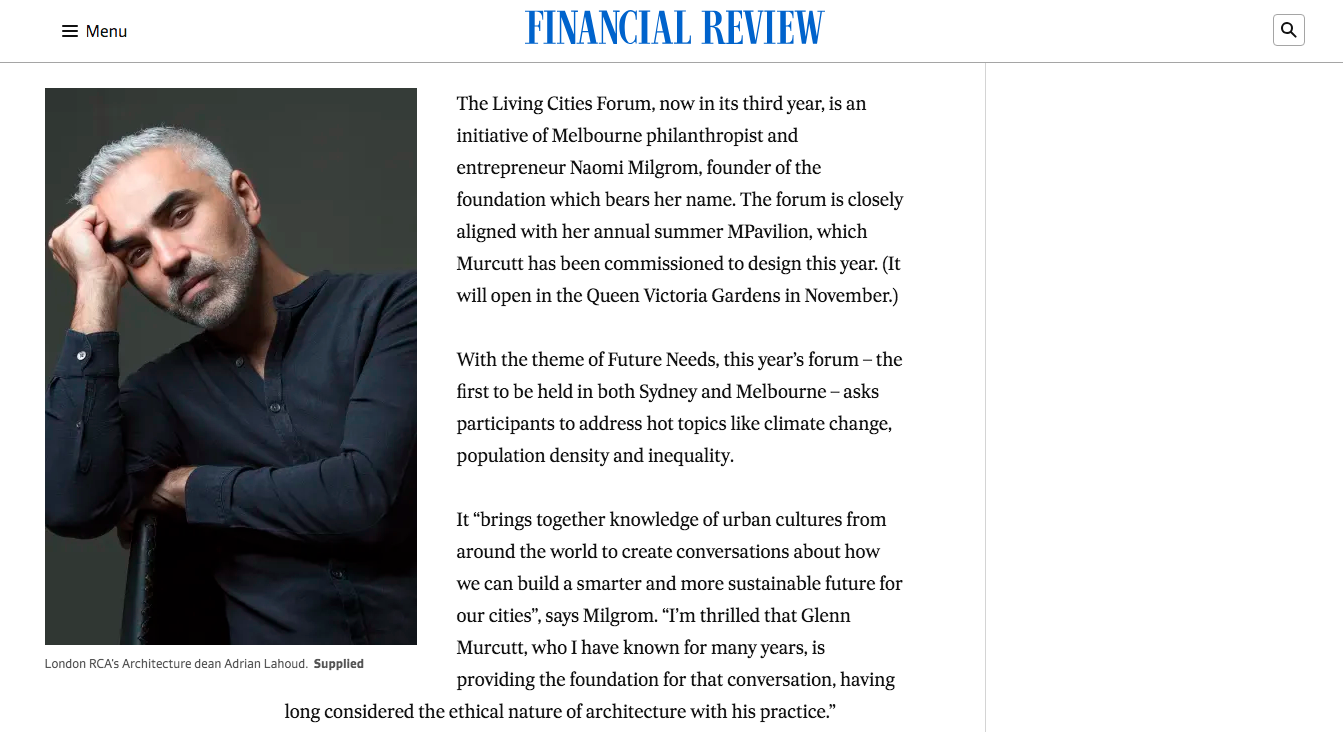 In an in-depth feature story, the Australian Financial Review's design editor Stephen Todd gathered three of the Living Cities Forum's speakers—Glenn Murcutt AO; London-based architect and Royal College of Art London Architecture dean Adrian Lahoud; and Los Angeles' first chief design officer Christopher Hawthorne—to consider their different approaches to pressing urban concerns.
Read the article in the Australian Financial Review.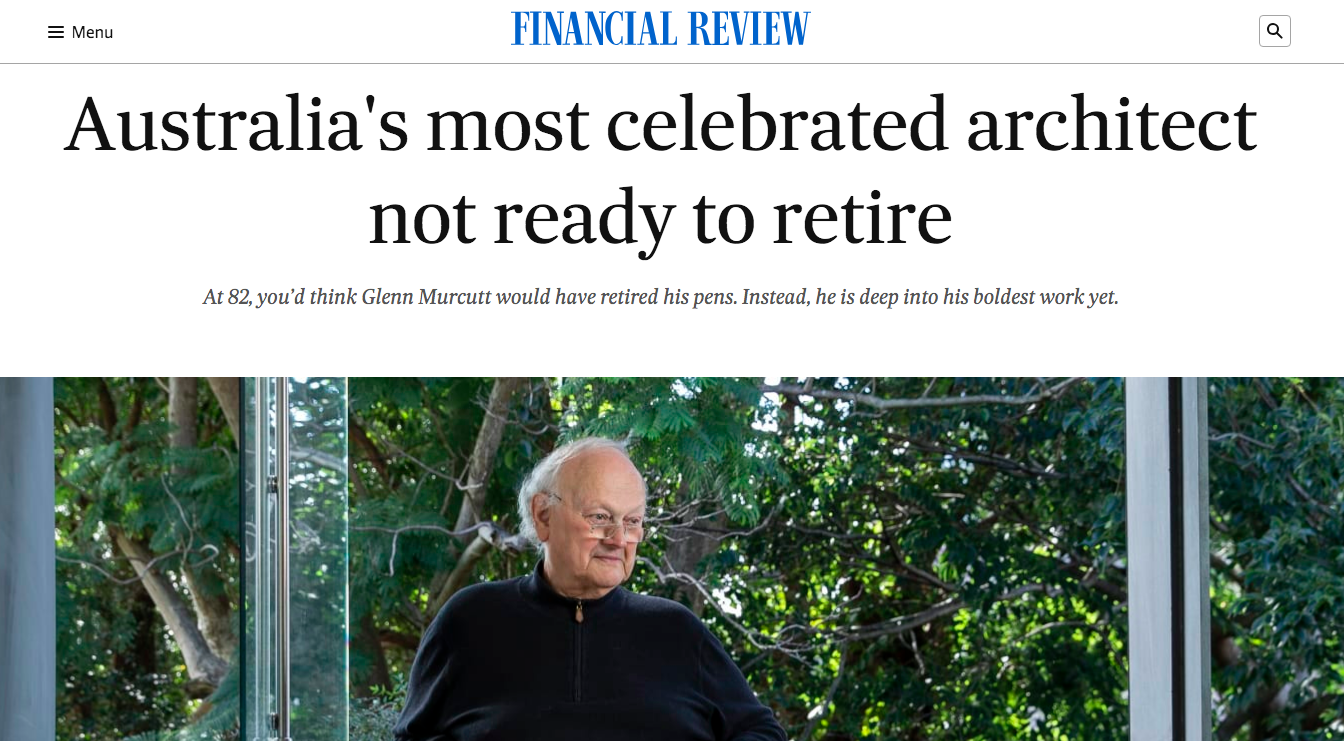 Earlier in the month, the Australian Financial Review's Luke Slattery spoke with Glenn Murcutt about his half-century-long architectural practice, his role in the forthcoming Living Cities Forum 2019 and his most recent cultural collaborations, including plans for a Buddhist temple for the Chinese Shaolin community on the NSW south coast.
"In his 83rd year, and the 50th anniversary of his architectural practice, Murcutt could easily be kicking back, resting on his substantial bed of laurels. He is, after all, the only Australian winner of the Pritzker Prize, architecture's equivalent of the Nobel, placing him in the pantheon of Gehry, Foster, Ando, Hadid and Utzon. But instead of resting, or repeating himself, he is spurring himself towards new challenges," Adrian wrote. "He has never been in greater demand than now for both his architecture and his views on architecture's contribution to society, the environment – to life."
Read the article in the Australian Financial Review.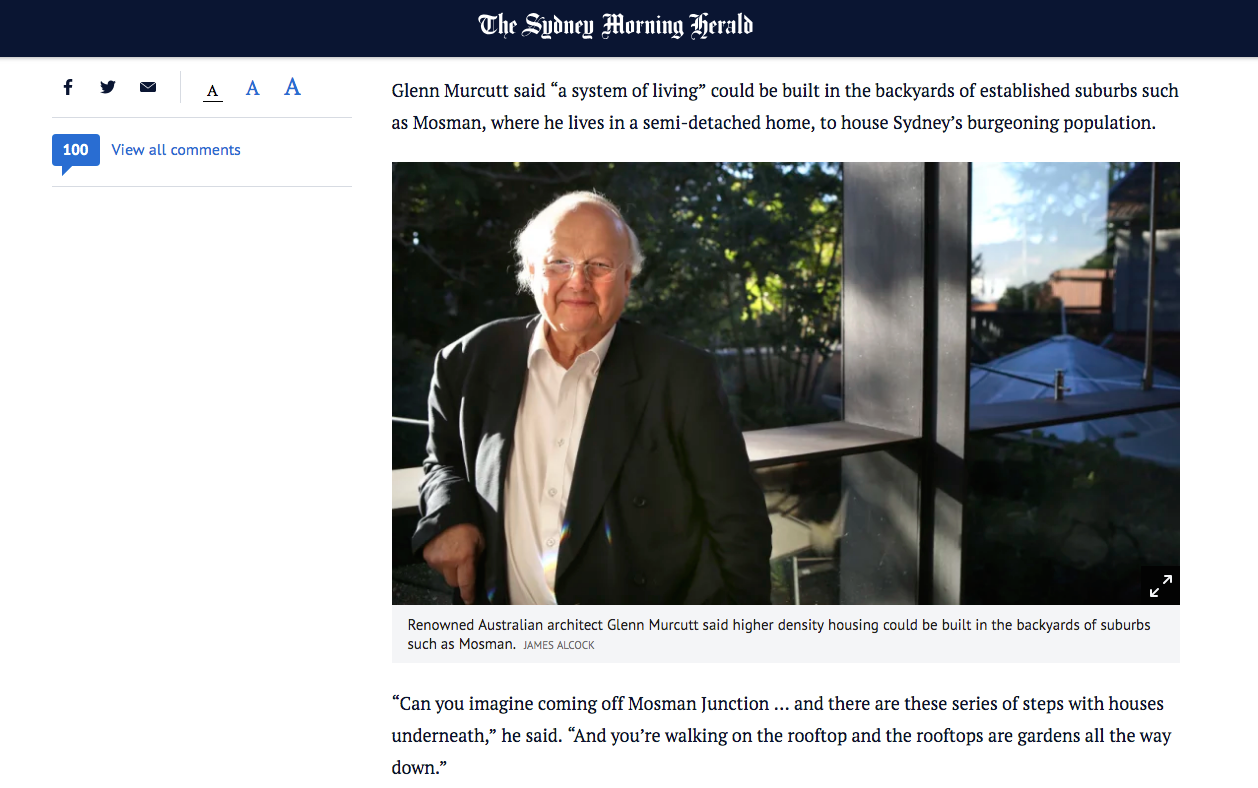 Glenn also appeared in the Sydney Morning Herald, speaking about the challenges facing Sydney's future and the opportunity to build for increased population density.
"Increasing the density of Australia's major cities is one of the challenges that will be discussed by speakers including Mr Murcutt at the Living Cities Forum, which will be held in Melbourne and Sydney in May," journalist Andrew Taylor wrote. "Mr Murcutt, who won the Pritzker Prize—the Nobel prize of architecture—in 2002, identified population growth as the greatest issue facing major Australian cities."
Read the article in the Sydney Morning Herald.
Want to read more about the speakers? See below:
Final speaker line-up announced for 2019 Living Cities Forum in Architecture AU
More international speakers announced for Living Cities Forum 2019 in Green Magazine
Living Cities Forum 2019 in Assemble Papers
---
The Living Cities Forum 2019 takes place at Deakin Edge, Federation Square, in Melbourne on 23 May, and at Carriageworks in Sydney on 28 May. Learn more about our distinguished speakers and book now on the Living Cities Forum website.
The Living Cities Forum is an initiative of the Naomi Milgrom Foundation.