Q&A: Global collective Hyphen-Labs on the future of women in design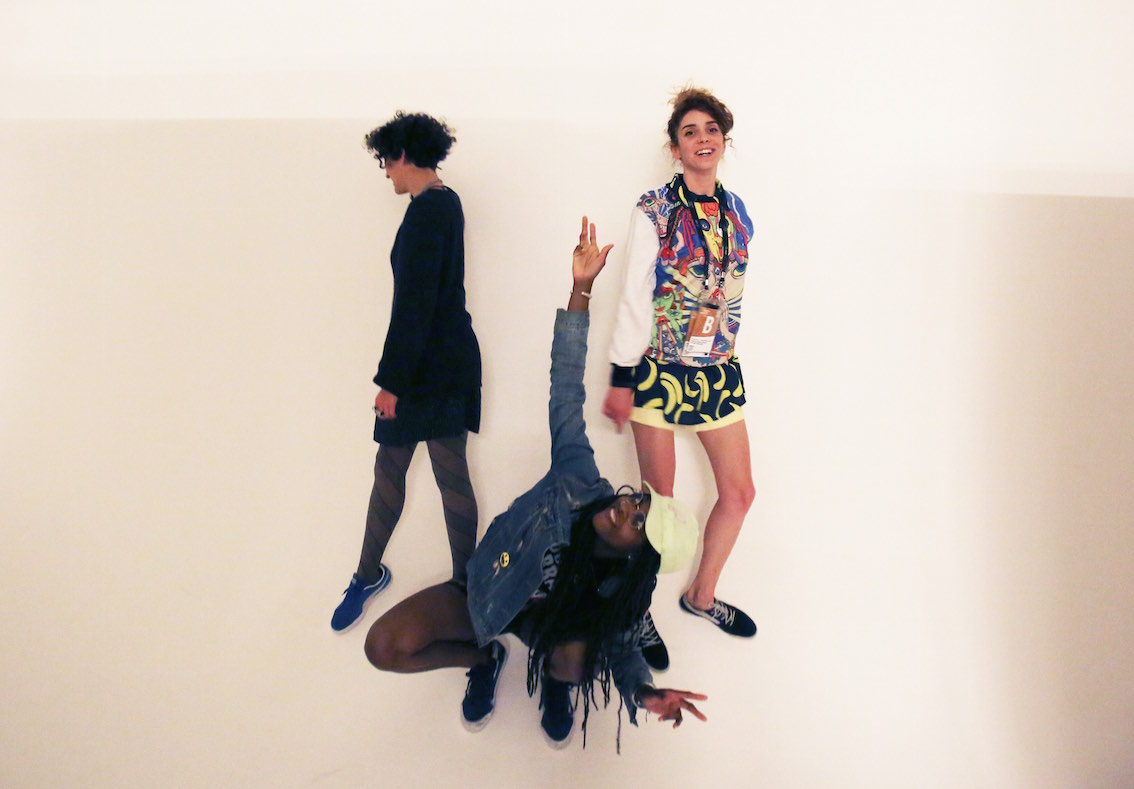 Hyphen-Labs.
As the end of our blockbuster 2018/19 season of free events draws near, we still have a number of international guests to look forward to, including Hyphen-Labs co-founders Ece Tankal and Carmen Arguila y Wedge. A global team of women of colour at the intersection of technology, art, science and the future, Hyphen-Labs is both a commercial studio and a collective exploring emotional, human-centred and speculative design.
Joining us at MPavilion, Ece and Carmen are leading a workshop for teenage girls, [Mind]map that precedes the territory on Wednesday 6 and Thursday 7 February, 10am–4pm, as well as an open discussion of their convention-challenging practice, In emergency break glass on Thursday 7 February, 6.15–7.15pm.
We caught up with Ece and Carmen to learn more about the Hyphen-Labs team.
MPavilion: We're so excited to have you at MPavilion. How did you come to co-found Hyphen-Labs and what was the intention behind it?
Carmen Arguila y Wedge: Hyphen-Labs is a design studio and think tank started in 2014 as a platform where we could create and connect with other women across the world. Within our respective industries, we saw the lack of female representation from creators to leaders. Carmen and Ece met in a masters program that was full of individuals from different disciplines and cultural backgrounds and were encouraged to explore and create outside of their comfort zones. Ashley, a writer and researcher brought a new perspective to the work and joined the team in 2016 and we started collaborating on NSAF.
Collectively, our backgrounds are in architecture, molecular biology, structural engineering, experiential design, art direction and marketing. These diverse backgrounds help us to extract and incorporate insights from other disciplines and fuse them with emerging technologies, while we take an innovation-driven design approach to transform communities and engage new and underrepresented audiences to inspire and create visibility in futurist narratives and digital representation. Our critical approach to technology seeks to expand the infrastructure of communication architecture while aiming for a future where the humanity thrives, not just survives.
MPavilion: There's a dual role to the collective: on the one hand the studio services clients, but there's also a political nature to the structure and to the work you do exploring human-centred design with workshops such as those you're leading at MPavilion. Is it important to have both elements?
Carmen: This is a great question! Our work continues to bridge the physical and digital. Tying narrative and storytelling into all of our projects gives them meaning, educates and allows for further contemplation. Technology is central to Hyphen-Labs' craft; our work infuses it with emotion, character and interactivity. Engaging with community is very important to our work: we often teach classes, give and attend workshops, so our perspectives can develop. This helps us as designers as we aim to be 'humanity or planetary-centred designers'. Loosely defined, this is the sum of design systems and approaches that have minimum negative impact, while sustaining integrity and fairness in all of our projects, be it a commissioned work or a workshop. We are building on technological advances to adopt a more conscious discourse in a healthy way for us and for the world. We see our work expanding into different disciplines while maintaining our identity as Hyphen-Labs.
MPavilion: The MPavilion workshop is for teenage girls and is very much about considering where design could lead us as a society in the future. Is knowledge sharing with young women and girls an important aspect of the collective?
Carmen: Before Hyphen-Labs, we were all working in fields that lacked gender and cultural diversity: architecture, engineering and science. We saw very few women who looked like us in our respective fields and also across media. There is a quote by Marian Wright Edelman that we came across very early in our practice that says, "You can't be what you can't see." This rang so true for us because we didn't have access to all of the ways we could exist in the world. We were dreaming from a place that often wasn't reflected in images we saw in mainstream media. We knew that there was more that we could be and we had a responsibility to create the type of content we wish we had access to when we were younger.
Hyphen-Labs allowed us to start telling our own stories.  We weren't beholden to a return on investment model. Through our practice we could move beyond the familiar narrative of the American man (hero) in space, and start populating emerging media platforms with impactful and powerful representations of women and communities of colour and to create and explore new modes of storytelling.  We got here through the stories we shared with each other and hope to inspire others to do the same.
We want our work to empower coming generations of creatives, encouraging them to build the future they wish to inhabit. The ubiquity of media affords it a unique power to shape societal judgements of communities and peoples based on how they are portrayed on our screens. Hyphen-Labs' intention is to expropriate and populate emerging media platforms with impactful, nuanced, and powerful representations of women and communities that exist at the margins of society.
MPavilion: MPavilion's STEM program acknowledges the importance of involving girls and young women in the technology and science fields. What do you hope to inspire in those who come to hear you talk or who join a workshop?
Carmen: We actually prefer the acronym STE(A)M, incorporating the world of art. We come from engineering, architecture, science and technology and, although we have very different backgrounds, our common ground is art.
Technology is central to Hyphen-Labs' craft: our work is infused with emotion, character and interactivity. We explore, experiment and understand the ethical implications of emerging technologies while scaling a business. We want to share our experience of creating a foundation and think-tank centred on global perspectives in emerging media and technology that will inspire the next generation of women through science, technology, pedagogy and innovative design. Our core mission is to use entrepreneurship, technology and design as a catalyst for change.
Join Hyphen-Labs for their workshops, [Mind]map that precedes the territory on Wednesday 6 and Thursday 7 February, 10am–4pm, and at a discussion of their practice, In emergency break glass on Thursday 7 February, 6.15–7.15pm. These events are part of the MPavilion STEM program in partnership with Office for Women.