MPavilion 2018 design attracts world press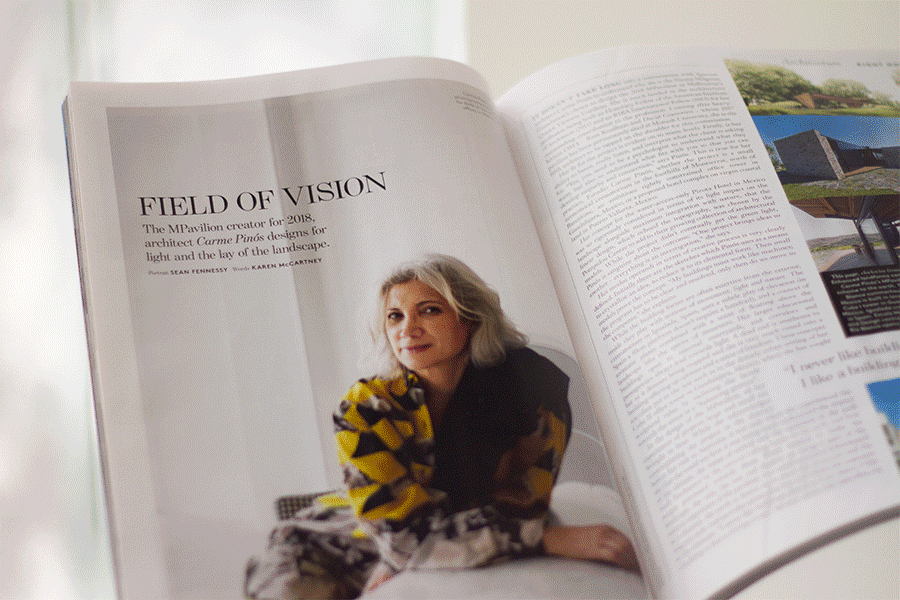 We're not too shy to (excitedly) boast that the design for MPavilion 2018 has created a buzz in the world of architecture, from Europe to the USA and Asia. Commissioned by the Naomi Milgrom Foundation and designed by Barcelona-based architect Carme Pinós of Estudio Carme Pinós, MPavilion 2018 was praised in news and design media for its poetic form and its focus on community. International daily The Financial Times spotlighted Naomi Milgrom AO and the Foundation's achievements as a charity and philanthropic endeavour, highlighting MPavilion for our humble mission to bring the city together through design.
Read what the media said about the MPavilion 2018 design below and click through to the full articles.
"Since 2014, Milgrom has made her mark on her home city of Melbourne with a series of temporary architectural pavilions in Queen Victoria Gardens each October… Each pavilion is intended to broaden architectural awareness and debate — 'We don't need any more buildings in Melbourne, we need to work out what to do with what we've got,' says Milgrom, echoing contemporary urbanist thinking — and attracts more than 200,000 visitors in its four-month duration."
The Financial Times
"In the design of the MPavilion, all [Pinós's] experiences of projects large and small are brought to bear… Enchanted by the natural rolling banks in the park, and how people gravitated towards them, Pinós wanted to make the landscape, the rain, the sun and shadow an integral part of the sensory experience of the pavilion."
Belle Magazine
"The new Carme Pinós design for the Naomi Milgrom-backed MPavilion opens the temporary function and event space up in a way that makes it impossible for people inside to ignore the surrounding gardens and city of Melbourne."
Australian Financial Review
"[Pinós's] new design reflects her aim to dissolve the lines between architecture and urbanism and bring the material, the environmental and the human together… It's an auspicious move for both Pinós and MPavilion, the country's foremost architecture and design event (one facilitated each year by Milgrom, an Australian philanthropist)."
Wallpaper*
"Pinós' scheme encourages dialogue on human experience and interaction."
Architect Magazine 
"Sitting opposite the NGV on St Kilda Road, Pinos' iteration of the temporary pavilion, the design for which was unveiled this week, will frame the dual backdrops of distant city skyline and the Queen Victoria Gardens. It will beckon the public from multiple directions for a program of talks on 'women in leadership, building communities and fostering inclusive cities'."
The Sydney Morning Herald
"Intersecting timber latticework frames make up Barcelona-based studio Estudio Carme Pinós's design for this year's MPavilion, which is set to open in Melbourne's historic Queen Victoria Gardens this October. Commissioned by charity organisation The Naomi Milgrom Foundation as its fifth annual MPavilion, the newly unveiled origami-like design will… incorporate stepped seating that can be used for community-focused experiences."
Dezeen
"[Pinós's] early interest in fashion can be seen in techniques today that are reminiscent of dressmaking patterns and construction methods."
Broadsheet
"Harking back to Carme's design philosophy, the 2018 MPavilion is set to be a space for cultural exchange, and where [people] feel they belong in a dynamic, community-focused collective."
Indesign Live
"Since 2014, the Queen Victoria Gardens has been the home to the temporary architectural structure MPavilion and an extensive cultural program every spring. And it has just been announced what this year's eye-catching structure will be: a floating geometric building, combining architecture and urbanism, designed by Spanish architect Carme Pinós, of Estudio Carme Pinós."
Concrete Playground
See more coverage of the MPavilion 2018 design:
Archdaily | Design Boom | Yahoo News Singapore | Dexigner | BauNetz De | Architecture AU |