Westside Circus
Circus is a vibrant, physical activity increasingly recognised for the physical literacy it develops in young minds and bodies. Westside Circus, Melbourne's leading not-for-profit charitable organisation creating quality circus experiences for young people aged three to twenty-five, uses circus to foster positive relationships between participants, families and communities, and promote health and wellbeing. WSC is the only funded circus in Melbourne working with young people as its core business and actively reaching in to vulnerable and disadvantaged communities.
Last year WSC travelled 25,000 kilometres to reach over 3000 individuals and provide 15,000 workshop experiences, including hosting 1200 workshops at its venue in Preston. The Circus works with an array of communities, including Jewish, Islamic and Christian, refugee and asylum seekers, CALD groups, families experiencing inter-generational poverty, young people living with disability and local families, schools and community groups.
Young people, especially those from disadvantaged backgrounds, are not just at the centre of what WSC does, they are the reason it exists. WSC believes in their right to access and participate in healthy, creative activities and that this access builds success in later life through the development of creativity and imagination.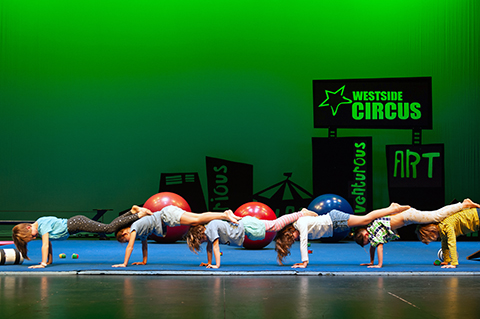 Westside Circus.